What Makes Firefly Different?
Many organizations can get agents appointed with insurance carriers. You may be wondering what makes Firefly different from those companies. Our answer is…
1. More Direct Insurance Carrier Appointments Than Anywhere Else
No brokering – With Firefly, you don't just get "access" to our carrier lineup.  Instead, you get directly appointed with all of our carriers in your state. (For the carrier list in your state, request our ebook by using the Grow Your Agency link above.) When we ask you to fill out appointment paperwork, it is done with the full expectation that you will be appointed.
You'll also have binding authority with each carrier. This keeps you in control of the quoting process so that you can move as quickly as possible on an account.
Other aggregators and networks only set you up with 3-5 carriers and broker the rest. Dr. Rolf demonstrates:

2. High Commission Split on All Carriers
Easy Commissions – You receive the same high 90% split of the carrier's gross commission regardless of the amount of premium you have with any given carrier.
This matters because when aggregators give you "access" to carriers, you usually get a much lower commission split when you write business with those companies. Their commissions may also be tiered based on how much premium you have written with the aggregator or a specific carrier.
In some cases aggregators will require you to "buy up" to a higher commission split.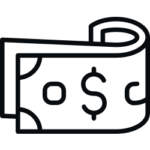 But with Firefly's high commission split with every carrier, you can do what is best for your client without being tempted to place business with certain carriers in order to get paid more.
What a relief—for both you and your customers!
3. All-for-One Approach 
No Pressure – You don't have to worry about satisfying a production requirement for each carrier every year. Instead, you get appointed under a Firefly Shared Code and that shifts shifts the burden of a production requirement from you, as an individual agent, to the entire Firefly organization.
Firefly uses the All-for-One approach. Your agency just needs to grow by $100K in active premium with Firefly every year until you reach and maintain $500K in active premium.  It does not matter which carriers get the business. As long as you satisfy the Firefly production requirement and use EZLynx to quote all of your personal lines business, you won't lose any of your carriers with Firefly.
As mentioned before, this means you will not have to steer business to a carrier that may not be best suited to your client.  Put them where they fit best, without a second thought!
And there's more . . .
Those aren't all of the differences. Agents also like owning the book, Firefly's commercial carrier lineup, and low risk easy to leave contract. But if we boiled down what agents like most about Firefly it is the control they get from direct appointments, with a consistently high commission split, and not having the burden of a per-carrier production requirement so they can focus on doing what is best for the customer.
Dr. Rolf sums it up for you here:
If those are the things that are most important to you, Firefly is probably a great fit for you!
Learn more by downloading our ebook.