Stop Using a Middleman to sell Policies
This is how Brandon in Ohio described what it was like getting carriers with Firefly:
"When I decided to work with Firefly, I hoped they would get me appointed with carriers like they said they would.  They got me the electronic carrier applications and then the appointments started to come in. The first one I got was a relief. Then, as more and more came in, I knew I'd made the right move. Every carrier's welcome email was a rush. I'm so glad I found Firefly. I wouldn't trade it for anything!!" 
Lot's of agencies know that with more carriers they could write more business and make more money. They can't add more carriers because they can't satisfy all of the production requirements.
A classic solution was created to try and tackle this problem: insurance brokers.
A broker is, by definition, a middleman. In the stock market, a broker acts as the middleman between the investor and a securities exchange. In insurance, a broker is the middleman between an agent and the carrier.
Some of the biggest brokers around are AmWins, AllRisks, Appalachian Underwriters, Burns & Wilcox, and Superior Access. There are lots and lots of other brokers as well.
The idea behind a broker is that the agent gets access to a wide array of insurance products without production requirements. Agents are happy because they get immediate access to lots of products, and carriers are happy because they get premium placed by experienced brokers instead of training new agents. In many ways it's a win-win situation.
However, brokers have two drawbacks that will give you a massive headache :
You're not in control. Instead of quoting and binding on your own timetable, it's a longer process with a broker. You have to submit a quote request to the broker, wait 24-48 hours to receive the quote back, present the quote to your client, and if the prospect wants to proceed, you have to ask the broker to bind it. Then the service work has to be done through the broker, meaning you often have to submit old-school ACORD forms, or submit items online. It's slow, and you're not in control.
You get paid less. Despite being slower for the agent, the agent gets paid a reduced commission. This actually makes sense because the broker can't do their work for free, and carriers aren't going to increase commissions. So instead of commissions going directly to the agent, now it's split between the agent (who usually gets 50-70% of the commission) and the broker (who usually charges 30-50% of the commission).
These problems aren't the end of the world. Brokers help agents, and are valuable under the right circumstances, such as for writing unique commercial risks. But it's not a very sustainable model for agents who are working full time to grow their business.
Now that you understand how brokers work, here's how they're used within aggregators.
Agents who are looking to start or grow their independent agencies will often partner with an aggregator who has 20+ insurance companies to offer.  Agents can't get appointed with all the carriers because they are still held back by the necessity to satisfy carrier production requirements. So even though the aggregator has 20+ companies, the agent generally gets direct appointments with just 4 or 5.
But can't agents also take advantage of the remaining 15+ companies with that aggregator?
Sort of.
Agents have "access" to all those other carriers through an aggregator's in-house brokerage.
This means that agents have access to all 20+ carriers — but it's through a brokering arrangement with the same two drawbacks and nasty headache as a traditional broker.
Agents who work with aggregators often abandon the broker model, and do the best they can with their 4 to 5 carriers. That's better than nothing, but it's important to know that the aggregator's carrier lineup is not going to be your carrier lineup.
Firefly's model is unique. It allows agents to get direct appointments with ALL of our carriers in your state, right out of the gate.  The reason is because our model does not have a per-carrier production requirement. Rather, our agents have the All-for-One approach which satisfies our carriers.
This might sound too good to be true (Brandon was a little worried about that to). So take a look at the screen shot below of a Firefly agent who started in 2020. Look at all of the carriers, and how quickly he got appointed with them! Unlike most aggregators, our carrier lineup really is your carrier lineup.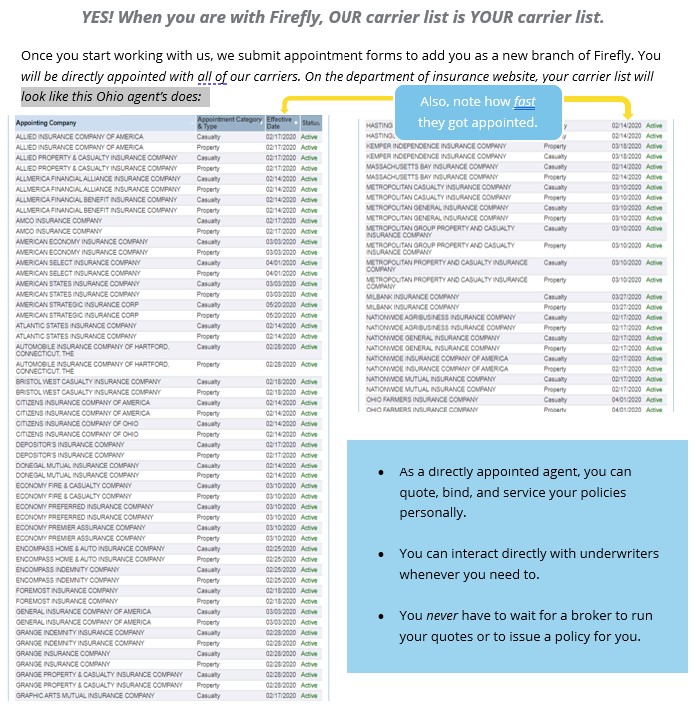 That means you can quote and bind with over a dozen companies. You can talk directly with underwriters. You service your own book. And because there is no middleman to pay, you get 90% of the commission on everything written through Firefly. New business, and renewals. Always.
Working with Firefly and gets rid of the middleman and gives you more control, which leads to more income and less frustration for your agency. Don't believe it? Connect with Other P&C Agents like yourself.
Get more information about what Firefly can do for you by downloading our ebook.