Sprinklr: Social Media Made Simple
What can Sprinklr do for you?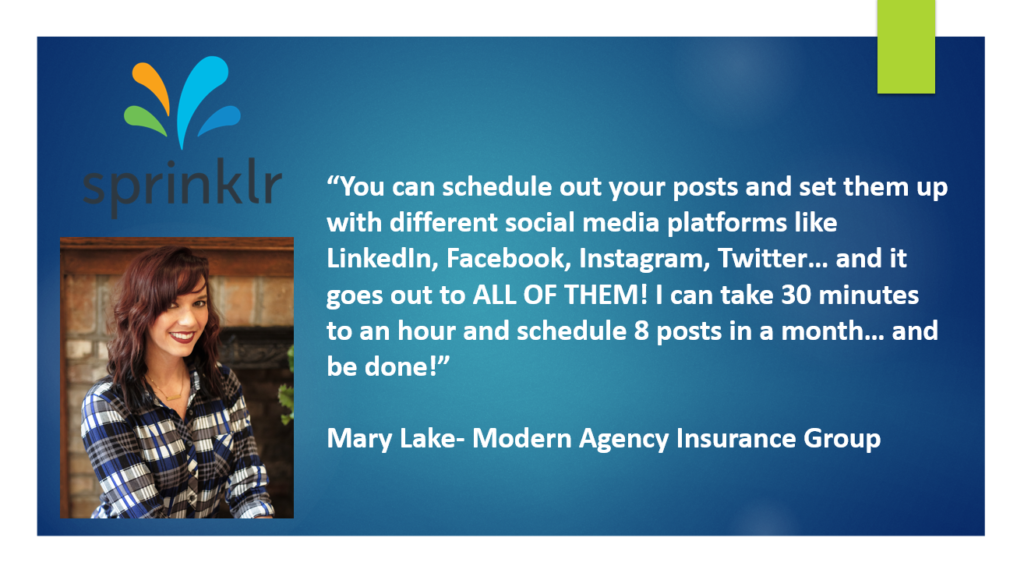 Social media can help you connect with prospects and customers, and help you grow your business. But it takes time to do your posts on all of the different social sites. Sprinkler lets you manage and schedule your posts AND see your social media analytics, for free – as long as you are appointed as an agent with Nationwide Insurance.
You can connect as many different social profiles as you want. That means that you can use Sprinkler, even with multiple accounts, on these channels:
LinkedIn
Facebook
Instagram
Twitter
Everything to Know About Sprinklr:
Katie, from Nationwide, joined Sam from Firefly to show you how Sprinklr works, and to answer questions from agents about it. Watch this video to see exactly how this system can help you grow your agency's brand online.
The video includes much more than we can write up in text on this page. Watch it all, or use the chapter markings in the video to jump to the sections that you're most interested in:
Here's what's covered in the video:
00:00 : Meet Katie, Sam and Sprinklr
10:26 : ⭐ How to get your FREE Sprinklr account
12:33 : Example of editing and scheduling a post
16:07 : ⏰ What are the best times for social media posts?
21:22 : How to create your own posts in Sprinklr
23:58 : Track your social media analytics in one place
25:32 : View your posts on a calendar
26:48 : Resources for you to learn about social media
27:38 : How to get help using Sprinklr
29:21 : Question: How can you get 1-1 help with social strategy?
36:21 : Question: Does using automation software reduce your reach?
43:20 : Question: Which social media channels are most productive?
44:54 : Question: What if you have multiple social profiles OR additional users?
How to get Started With Your Free Sprinklr Account
Nationwide is awesome to make this available to agents. They also make it super-easy to get started:
Email social@nationwide.com
Include your Nationwide Agent number
State that you want to get set up with Sprinklr
Then someone from Nationwide will contact you to give you access. (Note that Sprinklr is free, but only if you are appointed with Nationwide.)
When Should you Post to Social Media?
Social media marketing works best if you post 3-4 times/week. Sprinklr lets you create your posts now, but schedule them to be posted at a future date. This lets you organize your posts, and schedule them to be posted at times that your audience is most likely to see them.
Generally, the best times to post are:
During the week (rather than weekends)
7-9 in the morning
Over lunchtime
5-7pm
What Should you Post?
Creating content that people want to see is an important part of making your social media get you results. You want people to feel connected to you and your team, which is why you need to create posts that people will interact with, and hopefully even share.
Nationwide has a content library that you can use for some of your posts. That is optional.
Personalized posts are usually the highest performing, so for the best results, the majority of your posts should be ones that you created.
How to do this is a big topic of its own. For some tips, you can view Firefly's information about creating great social media posts and online tools you can use to create your posts.
Looking for answers or feedback from agents like yourself? Connect with other P&C agents.