Setting Goals That Really Work
"Busy" does not equal "Productive"
"In the absence of clearly defined goals, we become strangely loyal to performing daily acts of trivia."
— Author Unknown
How many times have you come to the end of a workday and realized that you were busy all day – but you didn't actually accomplish any of the things that will help your agency and income grow to new levels?
You are not alone. But if you want to grow more than you have up until now, you'll need to do some things differently, and focus on doing different things.
Here's how to set goals that work
In a recent webinar, Hans and Sam shared some specific things you can do to set and achieve your goals. They include backwards-planning, a focus on activities, and what do do when you aren't achieving your goals yet.
Watch the whole video, or use the chapter markings to jump to the sections that you're most interested in:
Here's what's covered in the video:
00:00 : Meet Hans and Sam
03:41 : Being busy doesn't mean you are being productive
05:55 : ACTIVITY goals get you to your production goals
09:01 : How to set activity goals
13:46 : ⭐How to know if you had a good day
15:09 : Other goals to re-examine
17:26 : Should you follow data? Or instincts?
17:59 : 🔨 Free tool to track your goal data
19:52 : Data can help you see where you can improve
20:44 : Book recommendation – Telesales
22:19 : Book – Fanatical Prospecting
25:32 : Without tracking results, you'll never know if you're succeeding
29:46 : Goal setting recap
We can't type up the entire video. But below are a few highlights that can help you out. If any of it is helpful, watch the video so you don't miss out on something.
Book recommendations
An agent asked during the webinar what books we'd recommend, that have to do with achieving goals. Here are two that we feel are noteworthy:
Click either one to go to the Amazon listing for each book.
You can also read more about Fanatical Prospecting at the author's website.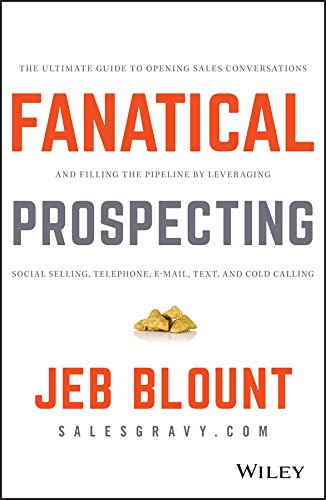 Free Excel Goal Setting Tool
In the video, they show you a free Excel tool that you can use to work backward from your goals to turn them into trackable daily activities.
You can download the Excel document here.
As they discussed in the webinar, it's super-important to track your results. After all, if you don't track results, you'll never really know whether you are succeeding or not.