Create the Best Facebook Business Page in Insurance
You're probably here because you know Facebook can get you leads, and you want to create an ideal Facebook Business Page to make that happen.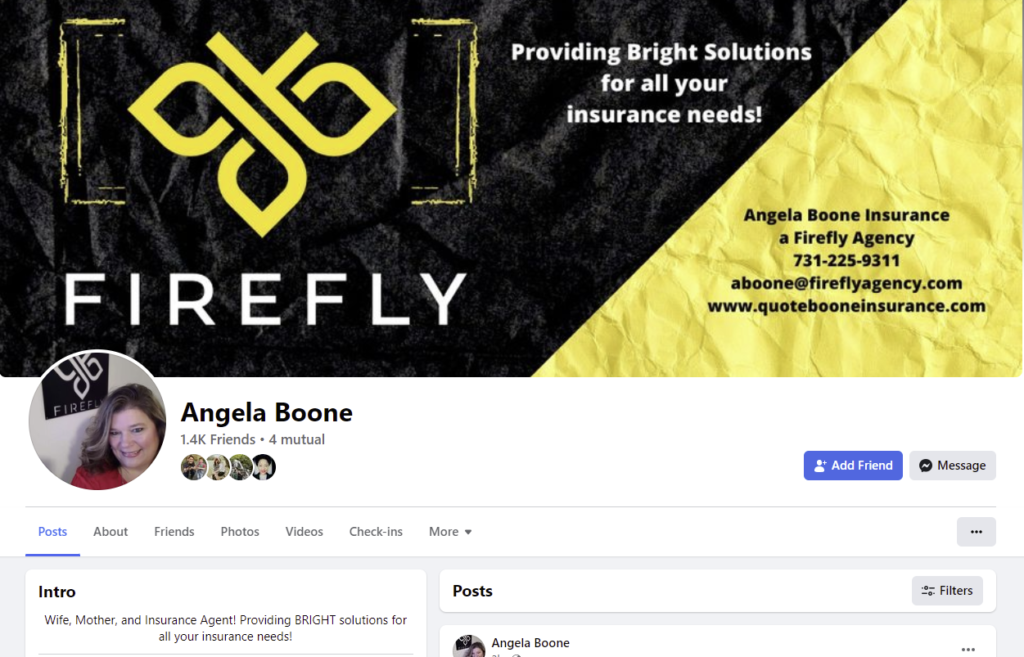 Below, we'll highlight what you should address on your business page to make it more effective.
Your Facebook Profile Info Should Match Other Online Listings
Making sure that your about info, contact info, and hours of operation match your other online business listings is essential in improving your "Location Authority".

This is because Google search bots scour numerous online business directories and use all those listings to determine your Google search rank.
Check your Google, Yelp, Bing, Yellowpages, and other online business listings to make sure your information is the same on all business directories.
Connect Your Other Social Pages to Facebook
Make sure that you add any of your other social page links to your Facebook when editing your Page Info (see screenshot below of where you'll add those "Other Accounts"):
Add a Great Profile and Cover Photo
Don't leave your profile or cover photos blank! According to Facebook, people are more likely to like a page with both photos than a page without.
Cover Photo:
Make sure the photo doesn't have text around the edge of the picture, as it might get cut off once uploaded. Check how it appears on mobile device once you've uploaded it.
Design your cover photo to include your agency's contact info. Make your photo unique!
If you are not a design expert and would rather have someone else create cover photos or logos for you, check out Fiverr
Profile Photo:
Use your agency's branded gear in your profile photo if possible.
Remember, people will only see your cover photo when they land on your page, but they will see your profile photo whenever you post, whenever you comment, or whenever you like something as your page.
That profile photo will be incredibly small on mobile (which is where 80% of social media is consumed).
With that in mind, what do you want people to see in your profile photo when they see your posts, likes, or comments? Check you photo on mobile when you upload it!
Caption your photos
Once you post a cover or profile photo, you can add a description or caption to the photo itself.
Doing so can improve SEO if you use the right keywords or if you include your website link or a Bitly link to your Google search results.
Search engines will crawl your social media pages and will pick up image captions when they're available, so make them available (see in the image below an example where our Firefly Profile photo has link to our website on it. You can also click this link HERE to see that photo and the photo caption right on Facebook):
Enable Facebook Badges
This will reward your Top Fans with a badge, encouraging them to continue to engage with your content. The "Top Fan" badge will appear above their name in comments in your posts.
Add a "Call to Action" button to your business page
You can add a "Learn More" or "Contact Us" button right to the top of your Facebook business page.
Get reviews on your Facebook page
Encourage clients to leave you a review after every sale, renewal, or other positive experiences.
For more on reviews, we have an article about getting Google Reviews. Check the article out, and you can apply the same concepts to Facebook reviews.
Grow your Facebook likes and followers (your audience) to reach more prospective clients
Post engaging, authentic content consistently, and at the ideal time for Facebook's audience.
Use Facebook live videos
Make sure to plan these in advance and create an event on your Facebook page

Invite people to the event. This will ensure they can respond if they are attending, which you can track.

Events can be shared with others, so you can encourage people to share your live video event in advance.
Planning your event in advance will allow people to know the topic your covering and whether it is valuable to them.

Make the live video short

You've all been in carrier trainings. It is hard to talk about insurance for 20 minutes. Keep it to 5 minutes or less.

Make sure the live video is visually pleasing

Think about what a client would want their agent to look like.
Most people expect the businesses they work with to be neat and organized.
A bedroom is not the best place to host a live video, for insurance. Nor is a cluttered office.
Look professional when discussing something professional.
Check how you look and how your environment looks on camera before you go live.

Make sure the live video is visually stimulating

Sitting in a chair talking to your audience isn't everyone's cup of tea.
Share your screen, show an infographic, make the video visual and interactive.
Can you share you screen? Show a Powerpoint? Walk around a property?
Try to make your video interesting through the action, as we all know, insurance by itself is not interesting
Use Facebook Events if you are going to a local event
If you attend local events, in addition to posting about it on your Facebook page and profile, create an event on your Facebook page and invite people to it.
Easy to discover page name and a memorable username (Vanity URL).
Your Facebook page name should be easy to find. To help your page name be easy to find, try to keep it short.
Your vanity URL should also be easy to find and relate to your agency name.
Embed your Facebook posts on Your Website.
If on your Facebook you do live videos, if you share helpful insurance related content, or even if you share posts about yourself and your team, any of these might fit well somewhere on your website. Embedding your Facebook posts on your website can create another place for people to see your content and will help create backlinks between your website and Facebook, which can improve SEO.