Add Live Chat to Your Agency Website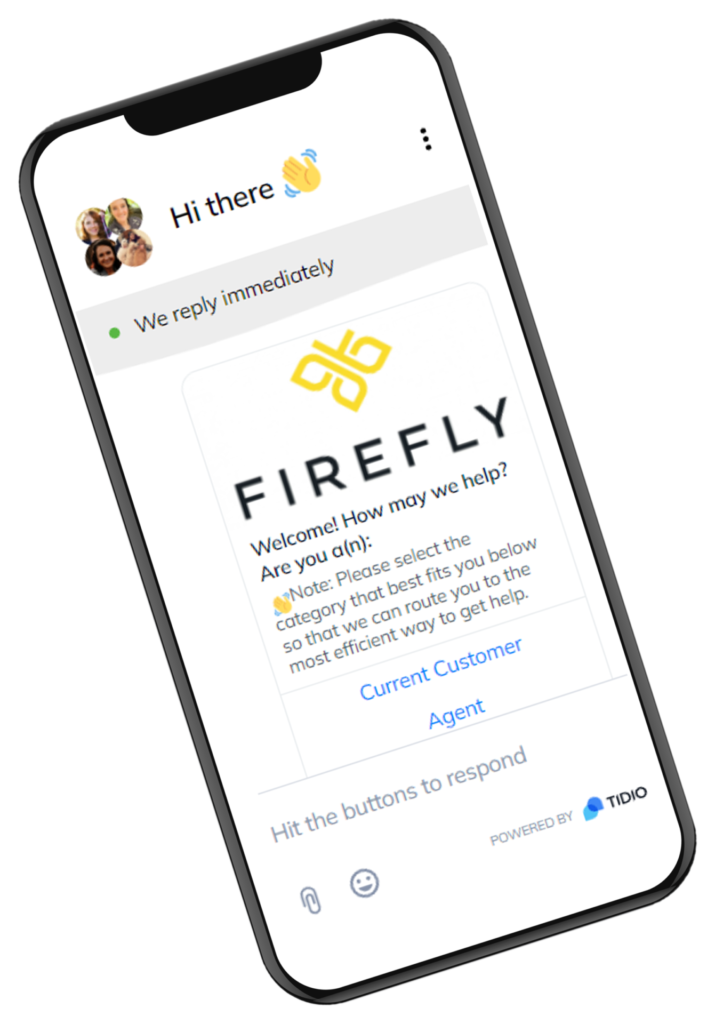 Why Does Live Chat Matter?
Adding live chat to your agency's website will instantly make your website a power tool to help you attract and retain customers. ✔️
This great Forbes article explains that quick responsiveness to customer questions is hugely important to them. This kind of tool is one of the five ways they suggest you can use to wow your customers.
Live chat for your insurance agency may seem like it would be difficult to set up and use, or be impossible for you to do. We know from experience that it's not!
You really CAN do this!
Watch This Video About Live Chat:
Heather McIntyre and Jaime Graham, both of Firefly's Customer Experience Team, have personally researched and tested a variety of live chat vendors. They, and Sara, share with you what they learned, so you can implement live chat yourself.
The video includes much more than we can write up in text on this page. Watch it all, or use the chapter markings in the video to jump to the sections that you're most interested in:
Here's what's covered in the video:
00:00 : Introduction
00:46 : Meet Sara, Jaime, and Heather
02:19 : Benefits and uses of live chat
03:49 : How live chat helps insurance agencies grow
04:51 : Chart of live chat benefits and uses
05:22 : Live chat makes your website come alive!
05:49 : ? Tip: Start with a free or trial version first
06:14 : Firefly's experiments with 3 live chat systems
09:52 : ➡️ How to add live chat to your own website
12:16 : Benefits and hurdles of chatbots
13:56 : Example chatbot flowchart
14:58 : Example of chatbot flow we use at Firefly
15:43 : ? Our best tips for using chat on your site
17:57 : Here are Firefly's real life chat stats
18:46 : Wix: Low cost chat option
19:58 : Pricing is usually per user
20:24 : Chatbots are optional
21:08 : When a chat is about a claim
Benefits and Uses of Live Chat
In the video above, our team discusses the benefits shown in this image.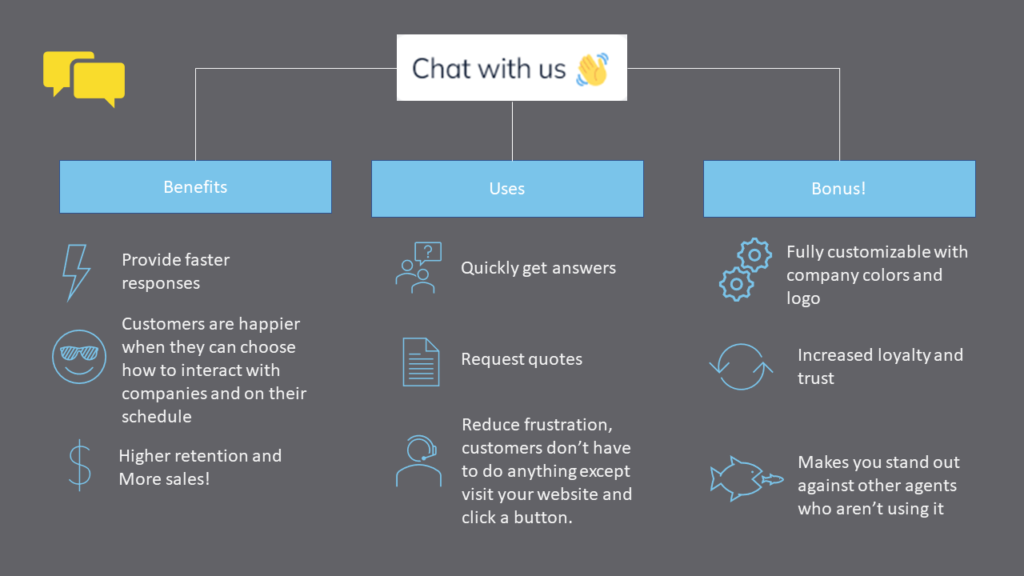 Along the way, our team researched many live chat service providers. They set them up on our website and experimented with them to see and feel what the differences were. Here are the three main ones that they tried out:
Tips for Using Live Chat in Your Agency
Here are some things that our team learned while experimenting with live chat. In the video they discuss many of these topics. Don't miss out on learning from their successes and mistakes!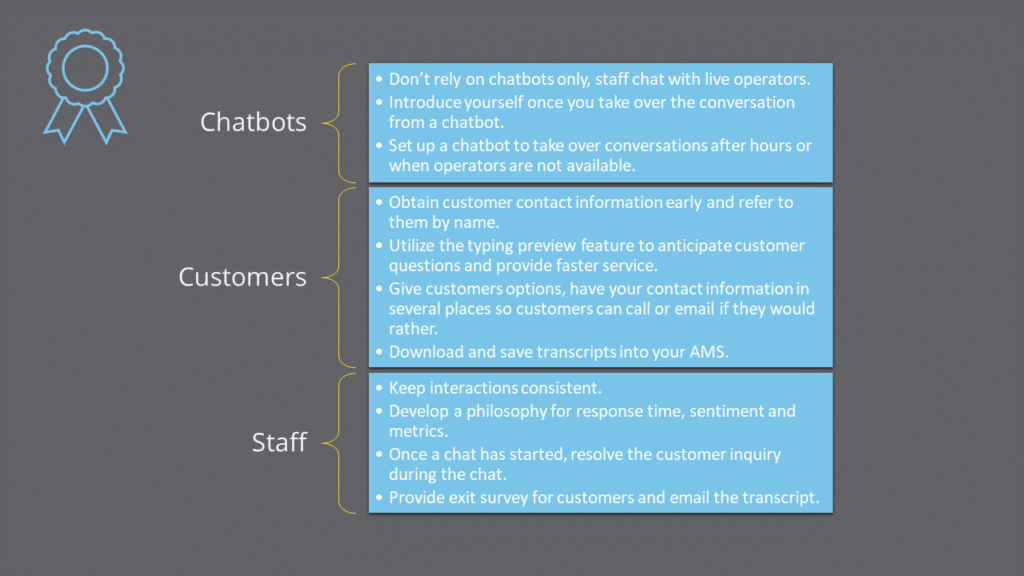 Has this been helpful to you? If so, please let us know.
We thank Heather McIntyre and Jaime Graham for their contributions to this article.