At the end of the day, the grass really can be greener on the other side and we, at Firefly, could talk about how fun it is until we're blue in the face.
However, you want to hear it from actual agents who made the decision to work with Firefly. You will find some of their stories here!
An Indiana agent left us this voicemail after his first month:
"I'm probably the happiest guy in Indiana right now! That includes the whole state, yes! The first month, from March 28th to April 28th, my agency has submitted $50,643 in annualized premium! I'm ecstatic! Just extremely happy with everything!"
Take 30 seconds to hear him tell where he was after just three months with Firefly:
An agent from Tennessee:

"What a fantastic experience it has been. After being a captive agent and getting rejection after rejection, I was looking for a better solution. I found more than I could have hoped for. Hans has been my main contact and he has been fantastic, helping me place commercial accounts that I previously couldn't consider. He walked me through the processes and fought for me and our clients.

"We were able to place a $100,000 account in my first month. We are currently working on more accounts that were rejections from the "captive" company. I truly feel like I am talking with friends when I call. Everyone's been very helpful and personable with each conversation. Highly recommend Firefly."

-Cody
An agent surprised us with this video within her first year with us:
We talk a lot about carriers, commissions, and production requirements. But the best thing for us is to know we've made a difference in a person's life.
Take one minute to see the things Mary loves about her lifestyle as a Firefly agent:
A review from 2019:

"Amazing on-boarding experience, support, licensing, carrier appointments, training and the trainers. Fantastic! Great turnaround and response times. Was up and running in no time. Resources available to help new agents. A+ 5-Star company. They really make you feel like your part of the Firefly Agency family."

-Garrett, Texas
Bill in Tennessee wrote:

"My agency partnered with Firefly Agency at the end of 2018, and thus far I have been happier than ever. The freedom and flexibility to offer so many great carriers to their clients for their P&C needs is fantastic! I would highly recommend that any captive, new, or even existing independent agents give them a look. It has been the best decision of my career thus far in my 10 years within the industry."
From Phil, an Ohio agent, formerly with State Farm:

"I don't know really what I can say with regard to NOT liking Firefly. I am just about to complete year 1 of my partnership with them and they've come through on everything they promised and so much more. Their staff provides support and they go above and beyond to assist you in writing new business. I look forward to our future working together."
Want to read even more reviews? 
See the latest comments from agents on Google:
1) Go to Firefly's Google Business Profile.
2) Then click "Google Reviews" as shown in the screen-shot to the right.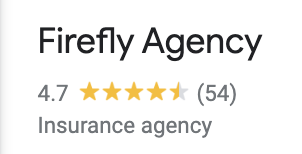 Top