"I WILL REFER ANYONE WHO WANTS TO BECOME AN INDEPENDENT AGENT TO FIREFLY BECAUSE YOU DELIVER ON YOUR PROMISES. YOU GUYS REALLY CHANGED MY LIFE!"
— Mary, Tennessee Agent
---
Why be an Independent Agent with Firefly?
GET DIRECT APPOINTMENTS
You can quote, bind, and service with all of our carriers. No middle-man to wait on.
HIGH COMMISSIONS FROM DAY ONE
90% split on both new business and renewals.
No tiers of production required.
YOU OWN THE BOOK
Leave anytime. You're in control.
Expand your carrier lineup
Want to see which carriers you'd get in YOUR state?
Download our ebook and find out.
---
"The best part about being with Firefly is having the ability to write through so many different carriers without per-carrier production requirements. Next month will be our 7-year anniversary with Firefly and I have no regrets on my decision to partner with them."
— Bret
Grow Your Agency
WHAT MAKES FIREFLY DIFFERENT?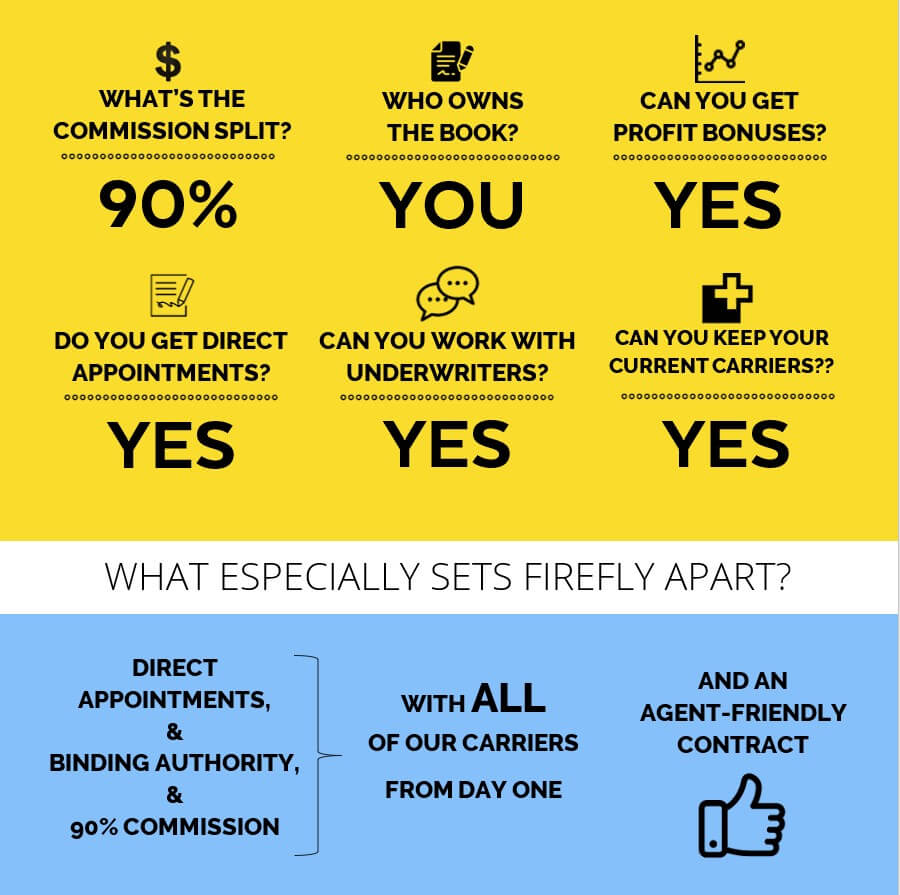 GET CARRIERS (NOT CHAOS):
ESCAPE THE STRESS OF CARRIER QUOTAS:
"I LOVE WORKING WITH MULTIPLE CARRIERS AND BEING ABLE TO OFFER OPTIONS IN BOTH COVERAGE AND PRICING. IT'S A WIN-WIN FOR US AND OUR CLIENTS."
— Mike, Ohio Agent
"I HAVE BEEN AN AGENT WITH FIREFLY SINCE 2008. I CAME FROM A CAPTIVE AGENCY & HAVE MORE THAN DOUBLED MY INCOME. BECOMING AN INDEPENDENT INSURANCE AGENT IS THE WAY OF THE FUTURE AND FIREFLY HAS NAILED IT."
— Mark R, Agent
Firefly Insurance Agent Appointments
Firefly Agency is the fastest and easiest way to get direct appointments with insurance carriers, without the burden of a per-carrier production requirement.
On top of that, you'll also get meaningful support from trainers and our team where everyone has experience as an agent, underwriter, or CSR. Your new resources will help you make the most of those new carrier appointments.
If you work with Firefly you, connect with other P&C agents and share ideas on how to use insuretech to provide a better customer experience. You can ask questions and give advice about how to start, grow and run a successful independent insurance agency.
Firefly's extensive resources and agent support groups are just a few of the reasons why we're one of the best companies for independent insurance agents.
We offer you a turn-key solution so you can focus on growing your agency instead of trying to find the right carriers, wrestle with production requirements and the disaster that it would be for your business to lose a carrier because of them.
Current Firefly Agents tell us that the user experience we provide exceeds their expectations. With Firefly, you get the ability to add new carriers quickly along with the flexibility needed to provide your clients the best value. The excellent customer service you'll get from people with lots of experience in the insurance industry, is the cherry on top.
For the best information about working with Firefly – including details of exact costs, commissions, software, training, and more – download our free ebook.  For a general overview, we've provided the information below.
Work with Firefly Agency to Become an Independent Agent
Firefly is the insurance team member that you've been searching for to remove barriers between agents and carriers. This lets you take care of clients instantly, make more money and build better relationships.
Is your agency or brokerage ready for the next generation in direct insurance production programs? Our new system offers you the tools, capabilities and support to revolutionize the way agents get and keep direct carrier appointments.
Delight Your Clients, Build Loyalty & Increase Production
In the world of insurance, the power is at the client level. Your clients want to work with you. While many agencies struggle to get and keep direct appointments, Firefly's carriers will welcome you as a direct producer with open arms.
Finally, there is a solution for agents who have built (or who want to build) an independent agency. They wish to succeed without the pain of constant carrier changes or fear of being terminated by a carrier for not satisfying their production requirement.
The Firefly Agency Growth System
Do you want to start your own independent agency and take care of your clients without burdensome production requirements for each carrier you get appointed with?
● Tired of applying for carrier contracts?
● Eager to implement new marketing strategies without sales quotas?
● Ready to focus on building a book of business and giving excellent client service instead of managing your time between telephone calls with carrier reps?
If you said yes, then we can help. Firefly's systems and support will get you carrier contracts in order to start your journey as an independent P&C insurance agent.
Scalable Agency Solution
We offer a Scalable Agency Solution so you can save time, money, and resources by eliminating the middleman. Then grow your business as much as you can by offering the services that you can provide using your direct appointments and new software solutions.
How We Help Independent Insurance Agents Start & Grow Agencies
We provide independent insurance agents with the training, insurance agency oversight, and support necessary to run successful P&C agencies without a wholesale license.
To do so, we negotiate carrier contracts exclusively for agents who work with us (on both personal and commercial lines of business) and then eliminate the production requirements that normally come with the contracts.
The result is that your agency will make more commissions because you can write business directly without a middle man slowing you down.
No Per-Carrier Production Requirements
Imagine an insurance agency where you never worry about insurance carrier appointments being canceled because of lack of production. One where you are making more money each month. An agency where your closing ratio and retention ratios are higher — all while working with a great, reputable, and widely-respected carriers. That is what Firefly can do for you and your agency.
Direct Carrier Appointments
Cut out the brokerage middleman and save time on your insurance carrier appointments.
● Run your own quotes, bind accounts, and service policies seamlessly through our software
● Save time during the quoting, issuing and servicing process
● Give your clients the experience they want and deserve
We help grow insurance agencies, one carrier after another, as soon as you sign up.
The Benefits of a Direct Carrier Appointment
With direct insurance carrier appointments, you can establish a higher income, and you don't have to worry about lower commissions you would get with a broker. Not to mention the added benefit of building better relationships with your clients altogether.
Binding Authority with All of Our Carriers
When you work with Firefly to get appointed, you have binding authority with each of the insurance carrier appointments on your book of business.
This binding authority gives you ultimate control over the account quoting process. Want to bind a quote from a carrier at 10:00pm? Do it!
One-On-One Training to Help Grow Your Insurance Agency
As a start-up agency, you need the right tools and knowledgeable, experienced people to help get your business off the ground. Helping to lower the barrier of entry into the insurance industry, we provide our partners with all of the tools they need to begin and grow their careers in insurance.
Why Choose Firefly?
Why work with Firefly to become an independent agent or get more carrier appointments?
Experienced Agents on Your Side
You'll never feel like you're in this alone. We'll help you get the training, marketing support, and carrier appointments you need to succeed and will always be there to answer any questions.
Proven Business Model
Our proven business model enables insurance agencies of all sizes to succeed — with as little or as much investment as they choose.
Flexible to Suit Your Needs
There is no time commitment in the contract requirement with Firefly, so you can leave anytime if you feel that we are not a good fit for your needs.
With other aggregators, an agent may have to deal with pesky non-competes, preventing them from growing their dream agency. Without that restriction, you can feel 100% comfortable joining Firefly and taking advantage of all of the benefits of a top-tier digital agency.
Try Our Agency Risk-Free
There is no contract length, so if you ever decide Firefly isn't right for you, all you have to do is tell us with 30 days of written notice. You don't have to sign a long-term agreement.
With the freedom to maintain contracts with other carriers and the flexibility to leave if you want, we offer a stress-free approach to independent insurance that helps you focus on what matters most — your clients.
Be Your Own Boss with Firefly
You work with us as a 1099 sub-contractor, so you're never an employee with Firefly. Instead, you're a self-employed agent with complete freedom over how, when, and where you run your insurance agency.
The Simplest Commission Structure in the Business
Agents at Firefly get 90% of the gross commission on new business and renewals. There are no tiers to qualify for based on production or sales and no changes on renewals. Just one single 90% commission rate, pure and simple.
The Firefly Mission
Our structure gives agents the freedom they need to deliver genuine value to their clients. We bring together a team of trusted professionals, systems, and supports so you can run a full-service agency. We start with a new way of thinking: To serve our agents first by freeing them from the distractions and stress of carrier production requirements so you can focus on what matters most.
Freedom and Independence Few Insurance Networks Provide
Agents at Firefly have the freedom and independence to run their businesses how they choose. We remove some administrative duties and don't require multi-year contracts. With us, you don't have to deal with:
● Bureaucracy
● Process-driven compensation
● Restrictive marketing guidelines
Our commitment is to helping agents build great businesses that are sustainable over time.
We Are Committed to Your Success
Our agency is built with you in mind. Listening to the needs of agents like you, we have developed a support system with features and services that will ensure that you have everything you need to help clients succeed and benefit from all of your new carrier appointments.
You can also find peace in knowing we will be here every time you have a question or concern. We are as much partners as we are a source for direct carrier appointments — allowing you to focus on your customers and the things you do best.
Free to Manage Insurance Carrier Appointments How You Want
Our agency is built on a simple but revolutionary concept: we empower our agents to run their businesses how they want. That's why Firefly has no requirement about how much business you place with any given carrier.
Agents are free to do whatever is best for each client at any time. If you have insurance carrier appointments outside of Firefly, you are welcome to rewrite clients to and from Firefly carriers freely. No penalties and no commission reductions — the power is yours.
Experience the Freedom of Working from Home
Firefly Insurance Agency welcomes entrepreneurial individuals who want to sell insurance without the expense of an office. As a home-based insurance agent, you'll enjoy the independence of having a flexible schedule and the financial rewards of being in business for yourself. Save time on your commute and enjoy making money from the comfort of your own home.
Expect More
Experience a fulfilling life as an insurance agent working with Firefly and our all-for-one approach. Our sub-contractors have fun and enjoy meaningful relationships with our top-rated carriers with unlimited income potential.
Learn with Firefly
Firefly's online carrier and system training will teach you how to make the most of all the carriers you will have. Additionally, you'll learn how to create a real business that is passionate about helping people and capable of lasting for generations.
No Pressure, It Is All About You
Firefly thrives on a team-based approach. Our sales, service, and support teams work together to help insurance agents who work with us grow successful businesses. At Firefly, there's no pressure!
We offer an all-for-one approach that allows agents to focus more time on writing more business. Our team will be there every step of the way to help you succeed in your goals.
Direct Carrier Appointments, Consistent Commissions,
If you are an independent agent who wants to control your own destiny, Firefly is a great fit.
With Firefly you:
● Only have to focus on your top priorities, with binding authority you can write and service your policies 24/7
● Maintain control over administrative details for the customer, such as billing and underwriting
● Share in higher commission splits than what you normally could get with a third-party provider
A lot of agencies claim to be independent, but at Firefly, we mean it. We help you operate free from the pressure of any carrier. This independence means you always work directly with your clients to help determine a policy that best fits their needs.
We Are Thrilled to Help You
We love the insurance industry and the dedication that agents bring to their clients. At Firefly, we're passionate about the work we undertake every day to help your business grow in a way that positively impacts your bottom line and helps further your career aspirations.
By using innovative technology, sound strategic planning and our relationships with carriers nationwide, we've created a full-service agency that provides all of our agents with cutting-edge technology and best-in-class commercial/property products.
Is Firefly Right for Me?
Firefly is different from the other networks, clusters and aggregators in our industry. We have a proven model for agency success.
However, this does not mean that Firefly will necessarily be the best partner for you. When looking for the right partner for your agency, you need to make sure that the network has a well-established operational model with room for your agency's growth.
Start or Grow Your Independent Insurance Agency
If you're tired of working hard and not seeing the results you are earning, you're in the right place. Firefly offers the advantages like expertise of working with an aggregator without the bureaucracy. You'll have helpful training, quality leads, and a full support team standing by your side every step of the way.
What does it mean to partner with Firefly? We help you hit your goals with our experience, so you can reach for the stars without worrying about the details.
Find Out More About Firefly
Learn everything you need to know about owning your own independent insurance agency by reading articles in our Learning Center. The Learning Center is the most comprehensive and useful repository of information available about the process of going independent.
It's Time to Grow Your Insurance Agency — Here's How It Works
Want to learn more about getting Firefly Agency on your team? Read our free eBook to learn exactly how you can make the most of your agency with us. Then schedule a no-obligation call. During your call, we'll answer your questions about how Firefly works, and ask you a few questions about your experience and what you hope to accomplish. If it sounds like a good fit, we can get you up and running with direct appointments faster and easier than anywhere else.